Okay, those of you that are regular readers, stop laughing. I know it is a stretch but stay with me for a minute.
Still letting Gia fall asleep in my bed or with me in hers.
Letting all of my kids stay up way later than they should.
Not being as vigilant as I once was about what the kids watch on TV.
Cookies for breakfast.
Coke not only on special occasions.
Causing my daughter to cry whenever we start talking about giving more thought to how she behaves in front of boys or how to eat healthier.
Getting angry when the twins call me from the nurse's office to go get them (only because they are frequent fliers).
Pulling clean clothes out of the laundry basket because I am too lazy to fold them and put them away and I'll admit to once accidentally pulling clothes that I thought were from the clean basket but were actually from a dirty basket (maybe it was twice…fine it was three times…don't judge).
Not checking what Tommy or Belle are wearing before they leave for school and being shocked when they come home, realizing that either they don't match (Tommy) or they have worn an outfit that was less than flattering (Belle). And yes, our mornings are that busy.
Telling Nico when he was 5 and first asked me about sex that it's when a man and a woman hug really, really tightly. When I saw the wheels turning in his head and he asked me if I "did sex" with one of Leo's friends because he hugs really tight, I threw in something about God and realized I needed to be better. (I still cringe at that one and quickly became a mom that if you asked me a question, you got the truth or at least an age-appropriate version of the truth).
All of these are reasons why I am NOT "The Mom of the Year" (along with so many more that I could list). When my dear friend, Meredith over at  The Mom of the Year asked me to write about a time I was or was not, I was truly flattered. I decided to step out of the box and do something different. Come on over to her place and see what and then leave a comment there.
You will love Meredith's blog she is hilarious and down to earth and someone I hope to someday be sitting across the table (or at a pool) with a frosty drink chatting about the trials joys of parenting. Hers is one of the blogs that I like to start my morning with and I consider her one of my real, true friends that I have made while blogging. I know she'll always have my back and I'll always have hers.
So, I hope to see you over at her place so you can see me do something I don't do often.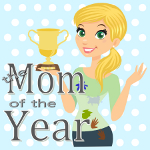 Related Posts: